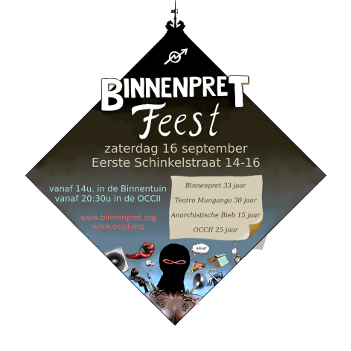 Binnenpretfeest
zaterdag 16 september 2017
Comecome & Celebrate the anniversaries:
* Binnenpret 33, *Munganga 30, *OCCII 25, *Anarcho Library 15 Years
We Open Up And Want U All Over The Place!" -- Entrance Free -
~ A Squatted Horse Tram Garage Became The Oldest Freespace Of South Amsterdam. ~
GARDEN SQUARE: from 14.00h - 20.00h Ongoing
KINDERPRET - Facepaint, Bubbels, making Upsound Musical instruments,
MKZ - Vegan Burgers
BOLLOX - InfoKafee & Anarchist Library
GAME - Tin Can Trump Throwing
GIVE AWAY SHOP - DIY Silkscreen Print Your Own Binnenpret T's... Bring Some To Print On!
INFO STANDS - From Other Free Spaces In Town!!!
Gallery KORTSLUITING: Ongoing Exhibition
OCCII upstairs yogapunx sessions
KINDERPRET 15.00h Crazy Circusshow by "In De War Productions" 15.45 h mini Kids marching band join us
TEATRO MUNGANGA 16.00h Presents "Kiekeboe": An interactive poetic puppet play with live violin music
ALL AGES from 1,5 years & LANGUAGES WELCOME! In Casa Munganga.
Atelier GA: Ongoing Exhibition
Various Artists From Binnenpret Add Up To An Exhibition In Their Open Atelier...
ASB Office 15.00h 17.00h 19.00 short Film: SUB 71 (former squat Leiden)
OCCII semi acoustic stage in garden
16.00h the EX (new set of songs)
17.30h Eugene Chadbourne (US)
OCCII: from 20:00h - 02:00h Downstairs and Upstairs/ Dancefloor/ Bar/ Live Music:
NOTENPRET presents her bands:
* Toto Boroto & the Wild Flowers
* Black Wednesdays
* Mineur
* Stiff
* I.R.K.
Special guests: * Eve Libertine (UK CRASS)+ BabyFire (BE)
DJ Rapture (US)
~~ * So Please Come * & * Celebrate With Us * ~~
Entrance Garden 14:00 - 20.00h >> Eerste Schinkelstraat 14-16,
Entrance OCCII from 20.00h - Late >> Amstelveenseweg 134.
More Info And Links: http://binnenpr.home.xs4all.nl/32jaar.htm
-- Exit Free - we love Donations